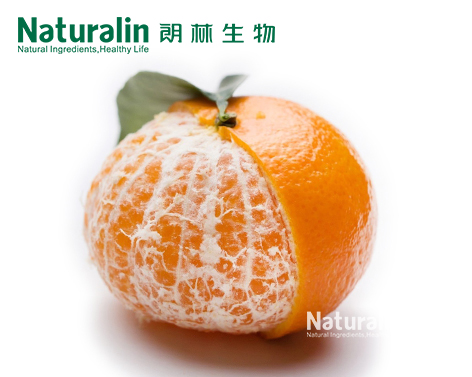 产品描述 / PRODUCT DESCRIBTION
Introduction:
Citrus Bioflavonoids are natural substances found in plants, fruits, vegetables, nuts, bark, and buckwheat. Citrus Bioflavonoids help protect capillaries, prevent bruising, and intensify the effect of vitamin C in the body. In fact, Bioflavonoids are essential for total vitamin C effectiveness. Citrus Bioflavonoids provide natural antiviral, anti-inflammatory and anti-allergy properties. In addition, certain bioflavonoids are beneficial for fighting infections, free radical damage, viruses, and common colds. Bioflavonoids have also been used to help alleviate symptoms related to allergies and respiratory conditions.
Citrus Bioflavonoids are sometimes considered vitamins because they possess the properties of a vitamin, and are sometimes referred to as vitamin P. They are found in several forms, including hesperidin, eriodictyl, quercetin, and rutin. They cannot be produced by the body, and therefore have to be taken as dietary supplements. Typical sources for Bioflavonoids also include the natural substances found in the peels of citrus fruits, peppers, and black currants. Other sources include apricots, cherries, grape fruit, grapes, lemons, oranges, prunes, rose hips. Herbs that contain naturally-occurring bioflavonoids include Chervil, Elderberry, Hawthorne Berry, Horsetail, Rose Hips, and Shepherd Purse. The Bioflavonoid Quercetin is typically available in capsule form as a supplement by itself. Rutin, commonly used in vitamin C supplements to boost its effectiveness, is derived from the buckwheat plant, and provides a non-acidic source of vitamin C. Anyone taking Citrus Bioflavonoids is encouraged to also supplement their diet with up to 2,500 mg. of vitamin C to significantly increase their effectiveness in healing actions.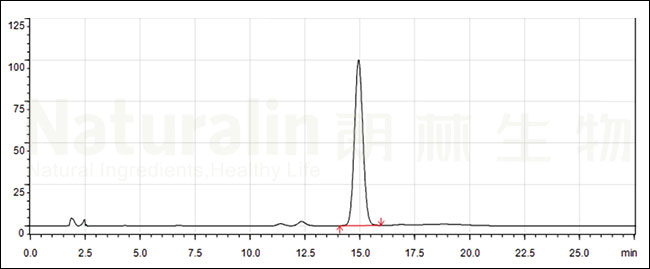 The HPLC of chromatogram of neohesperidin
Functions:
1. Antioxidant activity, including single oxygen, superoxide and hydroxyl radicals, and other free radicals, etc;
2. Circulatory system disease prevention, including capillary toughness, inhibiting platelet aggregation and regulating cardiovascular effect;
3. Anti-inflammatory and anti-allergic effects;
4. Antibacterial effect, including fungi and bacteria, and so on.
Applications:
1. Citrus Extract can be used in Pharmaceutical.
2. Citrus Extract can be used as health products.
3. Citrus Extract can be used as natural pigment in Food additive and Beverage.
Packing & Storage:
Pack in paper-drums and two plastic-bags inside. Net Weight: 25kgs/paper-drum.
1kg-5kgs plastic bag inside with aluminum foil bag outside. Net Weight: 20kgs-25kgs/paper-drum.
Store in a well-closed container away from moisture and light.
Shelf Life:
2 years if sealed and store away from direct sun light.
Natural Ingredients, Healthy Life.
Naturalin is a botanical/plant extracts manufacturer and Natural Ingredient Solutions provider.
Please feel free to contact us for your any concerns.

相关产品
欢迎垂询 / INQUIRY
原材料,仅批发,无零售。
Why Subscribe Naturalin Newsletter & Magazine?
As a leading plant extract manufacturer in China, Naturalin would like to offer you plant extract marketing inforamtion for you
in the form of monthly newsletter and semiyearly magazine, it is free of charge. Many thanks.