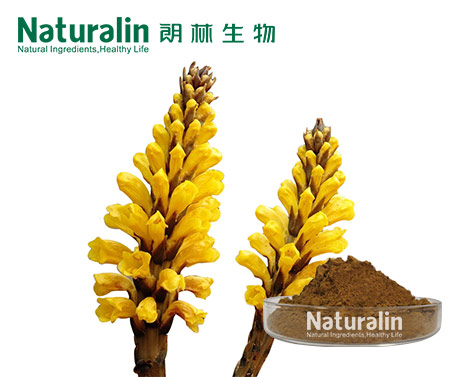 产品描述 / PRODUCT DESCRIBTION
Introduction:
Cistanche is a hardy, shrub-like plant. It is shaped somewhat like a cross between a pine cone and a pineapple native to the desert regions of Mongolia and northern China. Cistanche has been used for nearly 2,000 years to treat a wide range of medical issues. Even in modern times, cistanche is one of the more popular plants used in Chinese medicine, where it is know as rou cong rong. As a result, some botanists feel that the herb is becoming more difficult to find in native habitats. While it is not considered endangered, it is being monitored, particularly in regard to its use in global commerce.
Cistanche Extract is commonly prescribed by holistic medicine practitioners to treat problems relating to a person's sexual health, such as impotence, fertility, premature ejaculation, and menstrual cramps. Part of the popularity revolving around cistanche is its use to treat problems related to sexual health. Even in Western cultures, many people drink tea or consume powder extracts made with the herb. People believe that it can increase a woman's fertility and that it is particularly helpful for women having difficulty conceiving.
Functions:
The main active ingredient in cistanche tubulosa are echinacoside and acteoside, their main efficacy as following:
1. Beauty effect
Resisting radiation, whitening; Relieving constipation with laxatives;Enhancing immunity, anti-aging; Anti-fatigue Cistanche tubulosa is mainly used as the formulas of functional food,food,drinking,health care products and medicine.
2. Improving memory
Effectively enhancing memory; Effectively improving climacteric syndrome; Effectively improving senile dementia.
3. Reinforcing power & strengthening kidney
Effectively increasing the men and women'hormone; Strengthening kidney, enhancing sexcul function, available for essence and blood;Protecting liver and gallbladder.
Application:
Cistanche extract mainly used as food additives, beauty products additive, nutrition and health care products additive.

Packing & Storage:
Pack in paper-drums and two plastic-bags inside. Net Weight: 25kgs/paper-drum.
1kg-5kgs plastic bag inside with aluminum foil bag outside. Net Weight: 20kgs-25kgs/paper-drum.
Store in a well-closed container away from moisture and light.

Shelf Life:
2 years if sealed and store away from direct sun light.

Natural Ingredients, Healthy Life.
Naturalin is a botanical/plant extracts manufacturer and Natural Ingredient Solutions provider.
Please feel free to contact us for your any concerns.

相关产品
欢迎垂询 / INQUIRY
原材料,仅批发,无零售。
Why Subscribe Naturalin Newsletter & Magazine?
As a leading plant extract manufacturer in China, Naturalin would like to offer you plant extract marketing inforamtion for you
in the form of monthly newsletter and semiyearly magazine, it is free of charge. Many thanks.